Stockdale Capital Partners looks to move forward on Old Town Scottsdale development
By Ron Davis, Reporter, Phoenix Business Journal
Earlier this month, Stockdale Capital Partners filed plans for "Scottsdale City Center," which is phase two of a mixed-use development in Old Town Scottsdale. This latest phase, proposed on more than 3 acres on the southeast corner of Scottsdale and Camelback roads, could include more than 31,000 square feet of restaurant and retail space; an open plaza; and more than 270 residential units in a 435,000-square-foot building.
Boyce O'Brien, the director of development for Los Angeles-based Stockdale, told the Business Journal that the firm will follow market dynamics to determine whether those residential units will be for-rent apartments or condominiums for sale. The residential tower would be 12 stories tall and include a pool deck, according to project's design narrative.
"It's the Main and Main in Scottsdale," O'Brien said of that high-profile corner in Scottsdale. "We're very excited to be embracing the intersection, with an about a half acre plaza, that's grounded in a significant public art."
Stockdale partnered with South African artist Daniel Popper to work on the project, O'Brien said.
The Maya Hotel, a 12-story, 164-key hotel that connects to the existing Maya Day and Nightclub, is part of the first phase of the development. O'Brien expects the hotel to be completed by the first quarter of 2024. For the second phase, O'Brien said Stockdale is starting to put together construction documents and will go in front of Scottsdale's design review board for approval for materials, colors and aesthetic of the buildings.
Stockdale has multiple Scottsdale projects on the go
Should it receive the green light for the second phase, Stockdale hopes to start construction by the third quarter of 2024. O'Brien expects the project to carry a development cost of around $250 million.
Stockdale received approval for a rezoning on the entire 10.25-acre site in late 2020, O'Brien said.
Earlier this year, Stockdale announced it would commit $20 million to transform the 370,000-square-foot Ilume Innovation Center into a fully lab-enabled life science facility.
"We're excited about our investments in Scottsdale and the relationship we have with the city," O'Brien said. "The city has been a great partner in this process and very cooperative and collaborative. Although they've got their guidelines that they need to enforce, it's been a very good relationship."
Check out renderings of the proposed Scottsdale City Center project in the gallery below:
Scottsdale City Center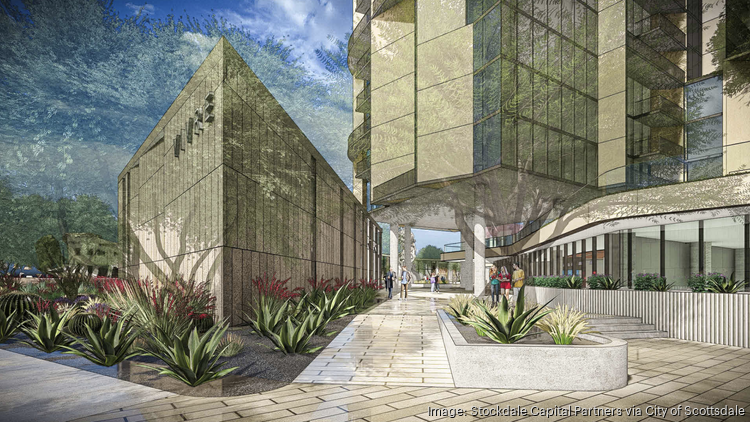 VIEW SLIDESHOW
5 photos